LONG   HALF   OLYMPIC   SPRINT   PUBLIC    KIDS  OPEN WATER SWIMMING   TIME TRIAL   RUNNING
CYCLING TRACK 20 km (Polar track)
CYCLING TRACK 10 km (Polar track)
CYCLING TRAC 6 km (Polar track)
RUNNING TRACK 5,28 km (Polar track)
RUNNING TRACK 2,6 km (Polar track)
DOWNLOAD RUNNING TRACK OF PUBLICK DISTANCE GPX FILE
RUNNING TRACK 1 km (Polar track)
DOWNLOAD RUNNING TRACK OF KIDS DISTANCE GPX FILE
FINISH AREA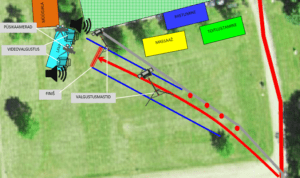 TRANSITION AREA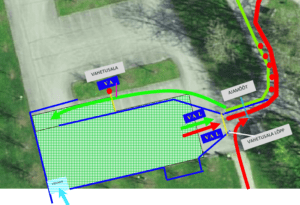 Swim course
Swim takes place at Lake Kuremaa in Jõgeva County
Water temperature in the 2nd half of August is expected to be between 18-22 degrees.
Track direction is counterclockwise.
The full distance athletes swim 2 times 1.9 km laps, half distance one 1.9 km lap, olympic distance one 1.5 km lap, sprint distance one 0.75 km lap, public distance on 300 m lap and kids one 150 m lap.
Throughout the swim course there are safety and rescue boats guarding.
DETAILED PLAN OF SWIMMING COURSE
Bike course
Bike course has varied profile. The course runs 100 % on asphalt roads.
The course is secured with officials on bigger crossings, with signs and with traffic speed restriction
The full-distance athletes 9 x 20 km laps half-distance athletes 1x 10 km extra loop and 4 x 20 km laps, olympic distance athletes 2 x 20 km laps and sprint distance athletes one 20 km lap.
Run course
Run course is mainly local asphalt-covered roads.
Athletes run for the full-distance race 8 laps, half-distance race 4 laps, olympic-distance race 2 laps and sprint distance race one lap.
The lap is marked: fiences, arrows, ribbons.
The race official riding on the bike leads the first runner at least for the first two laps.
Refreshment spot
The refreshment spot of cycling course locates near the beginning of lap.
The refreshment spot of running course locates near the transition area and in U-turn.