REMINDER FOR THE COMPETITOR
ECO-FRIENDLINESS: Good manner is that a competitor doesn't throw empty bottles, gelpacks and other waste on the ground in other places than official refreshment points.
TRAFFIC INFORMATION: Cycling course is on roads with normal traffic, running course on local low density traffic road. Every competitor has to follow traffic rules on all courses and behave in a way that him or herself or other competitors or other people in traffic are not in danger.
On every bigger intersection on the cycling course there is a traffic organizer in special clothing who's orders all competitors must follow.
PARKING
Only cars with special permissions are allowed in the start and finish area. You can find a map of parking areas HERE.
COMPETITION BRIEFING: It will take place at 5 PM on day before the race in hall of Ice Ace Center. We recommend to take part of it!
STARTING MATERIALS You can pick up materials at the breathing on Friday or on race day at start area, Chest number, 3 bag sticker numbers, saddle sticker, two helmet stickers, bike frame number, timing chip, velcro strap and gathering ticket. You can change velcro strap with softer neoprene.
The saddle sticker fasten to the seat post.
The chest number fasten to the number belt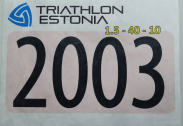 You can buy number belts in secretariate.
Write to gac stickers T1, T2 and F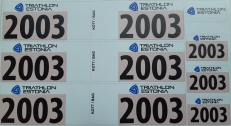 Fasten bag numbers properly over the handle.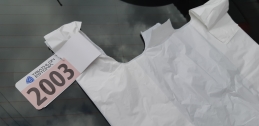 Fasten the helmet stickers to both sides. The frame number fasten to the right side on the frame or fork.
TOILETS/PORTA POTTIES: Are available at the finish area in manor house, next to the refreshment spot of cycling course, on the beach area and after leaving from transition, locations can be found on maps.
SWIMMING COURSE All turns are marked by buoys according to the course map, all buoys must be passed on the right side meaning all the buoys will be always on the left side.
Safety will be organized by SUP boards and motorboats.
TRANSITION area may be entered only by competitors having numbers and only necessary things can be left at the area. There are separate tents for men and women for changing clothes.
Information about transition for team members can be found HERE
CYCLING COURSE is on the open traffic roads. Traffic speed limit is restricted in important spots and splits. Also officials give green way on crossings. CHECK OUT THE DESCRIPTION, TRACK VIDEO AND MAPS FOR CYCLING COURSE.
RUNNING COURSE: Running course runs mainly on paved pedestrian roads, part of it is on a street with normal traffic! CHECK OUT THE DESCRIPTION, TRACK VIDEO AND MAPS FOR RUNNING COURSE. The length of a running lap is 5,27 km.
First runners on the running course will be escorted by cyclists who are members of the organizing team.
REFRESHMENT TABLE
Cycling refreshment point is located in a beginning of laps. Enervit sports drinks, water, bananas, raisins, salt, bread and salt pickles are available at the refreshment point.
For stopping in refreshment zone keep right! Faster riders keep left side!
There are 2 refreshment points on the running course. The refreshment table on running U-turn shall provided water only. At the beginning of lap: Enervit sports drinks, water, Coca-Cola, bananas, raisins, salt, bread and salt pickles are available.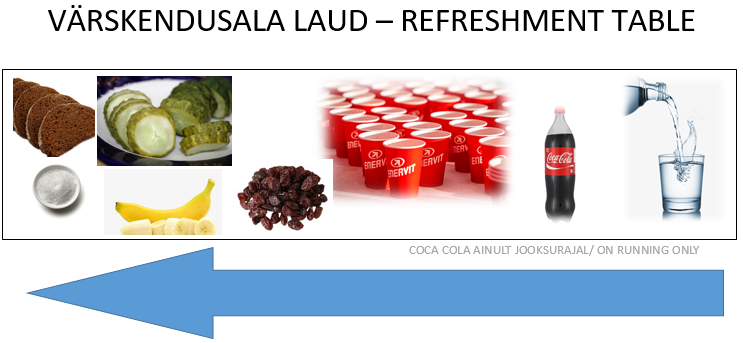 Right after finishing there is fresh juice and recovery-table available for the competitor: BCAA recovery pills, dried fruit, raisins, nuts.
Finish area will be closed after the last competitor arrives but no later than at 1AM.
RETURNING OF BIKE AND OTHER GEAR: After the competition the bike and other gear will be returned to the competitor when competition number is presented, which will be marked.
When race chip gets lost the competitor must present a personal ID document and pay a 70 EUR fee in cash.
TIMING: The competitor must wear a race chip attached to a leg at all times while competing. Competition number must be visible in the back during the cycling course and in the front during the running course.
The timing will be organized by ANTROTSENTER OÜ.
Live results will be published HERE
MEDICAL HELP: During the competition day there is ambulance available, on the cycling course the ambulance vehicle is located in next to transition, finish area and paramedics nearby road of Mustvee, Laiuse crossing. At the evening paramedics replace the ambulance at the finish area.
FOOD: Food is available for free to the competitors at the food tent at the finish area when giving gathering ticket. For spectators food is available for purchase only.
It's possible to pay in cash or by bank card.
MASSAGE: Students of Estonian School of Massage and Therapy will be available at the finish area. A FREE short massage is available for every competitor.
It's recommended to have a massage after taking a shower.
WASHING:
PRIZE GIVING CEREMONY: Prize giving ceremony will take place according to day scedule next to the finish gate.
PHOTOS AND DIPLOMAS: After finishing everyone can click on their name in the final protocol and open a personal electronic diploma which can be saved, printed out or shared through social media.
Finish protocol is a public document.
The organizer has the right to use and publish all photos and videos made by the organizer for commercial reasons.
Wishing good emotions in Triathlon Estonia competition!